At Southern Ceiling Repairs, we offer a variety of services to meet your needs and budget. These are estimates of our ceiling replacement cost.
For small jobs, such as minor repairs, patching, and painting, our prices start at $500.
For medium-sized jobs, such as repair or restoration of a ceiling, our prices range from $1000 to $2000. 
For major repairs or restoration, or total replacement of a ceiling, our prices start at $2000 and can go up to $5000.
We understand that ceiling repair can be an unexpected expense, so we offer financing options to make it more affordable.
If you're thinking about ceiling replacement in Perth, it's important to choose a reputable and experienced company. Southern Ceiling Repairs has been replacing ceilings for over 15 years, and our team of experts can handle any ceiling replacement job quickly and efficiently.
We also offer free estimates so you can get an idea of the ceiling replacement cost before you commit to anything. Contact us today to learn more about our services and pricing.
We understand the importance of getting the job done right, and we'll work with you to ensure that your new ceiling looks just the way you want it.
In addition, we offer competitive pricing on all ceiling replacement jobs, so you can be sure that you're getting the best value for your money. Whether you need a small repair or a complete ceiling replacement, we're here to help.
How Do I Know I Need a Ceiling Replacement?
If you've noticed that your ceiling is sagging or has water damage, it's time to call in a professional ceiling fitter or installer.
Southern Ceiling Repairs is a leading ceiling company in Perth with over 15 years of experience. We can quickly assess the condition of your ceiling and advise you on the best course of action, whether it's a repair or a replacement.
In most cases, we can complete the work within a day, so you can get back to enjoying your home. Contact us today for a free quote.
Specialised Ceiling Replacement in Perth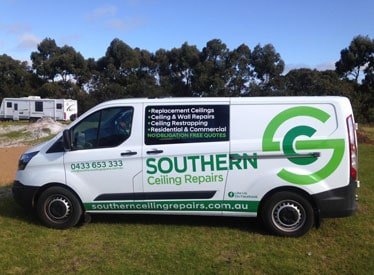 At Southern Ceiling Repairs, we understand that your ceiling is more than just a piece of drywall. It's an important part of your home's design and it plays a role in your home's energy efficiency. That's why we offer specialised ceiling replacement in Perth. We can help you choose the right type of ceiling for your home and we can install it quickly and professionally.
Contact us to get a free quote on your ceiling replacement cost.