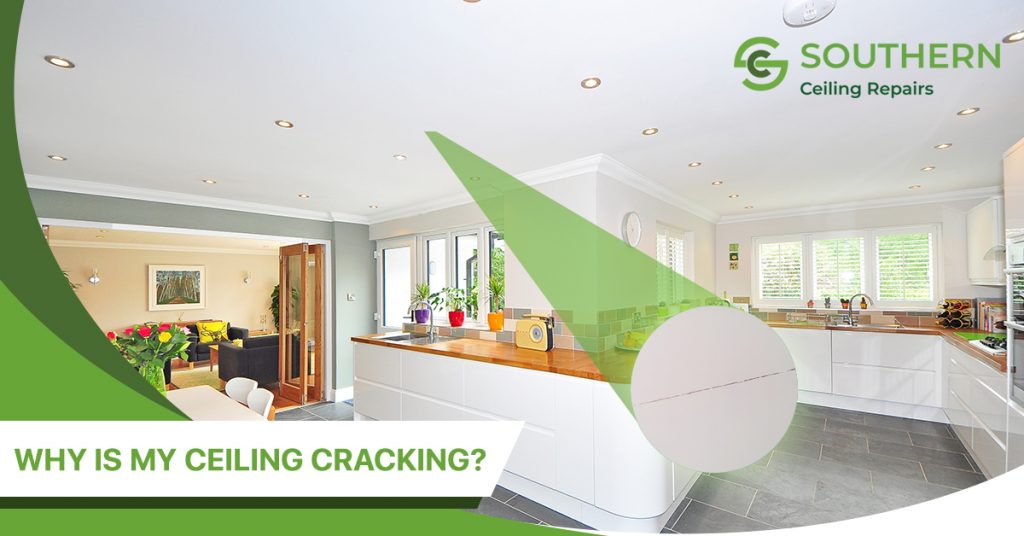 Homes can develop cracks that might be either structural or cosmetic. Examining the size, location and shape of the crack can provide you with an insight into the causes of the crack and possible solutions to the problem. The cracks occur due to movement and shifting caused by various conditions, including seasonal temperature changes, which might cause the soil underneath the building to expand or shrink. If you search for a ceiling repair near me, you will certainly get a team of experts from Southern Ceiling Repairs who will check for the possible causes of the ceiling cracks and offer you the best solution to the problem.


Causes of a cracked ceiling
Some of the possible causes of a cracked ceiling include:
Moisture damage
One of the most common causes of ceiling cracks is moisture damage. The moisture might come from water damage ceiling (from the floor immediately above the ceiling or the roof). Another possible cause for moisture could be a plumbing leak just above the ceiling.
Foundation problems
Another cause for ceiling cracks is serious structural damage for instance foundation settlement and shifting which causes ceiling cracks. Foundation settlement exerts a lot of stress on the building frames thus ultimately leading to ceiling cracks.
Types of ceiling cracks
Some of the types of ceiling cracks include:
1.Spider-web cracks in the ceiling paint or plaster
Small cracks in the ceiling plaster are normal and can occur even when there is a slight natural building movement. Cracks in the ceiling paint usually cause them after several years of build-up. It' vital to have a plaster ceiling repair to avoid any further damages to the ceiling plaster
2. Cracks running across the ceiling down to the wall
Any crack running way across the ceiling down a wall is commonly caused by structural damage. In this case, you should reach out to a professional expert to check on the problem right away.
3. Cracks on the ceiling accompanied by sagging
You should check a sagging ceiling accompanied by ceiling cracks immediately before the problem becomes severe.
4. Crack between ceiling and wall
If you notice a gap between the ceiling and wall, this is certainly a result of foundation settlement and shifting.
How to tell if a crack is structural
Some of the signs of ceiling crack caused by structural damage include:
Windows and doors that stick
Bowed or cracked walls
Chimneys or porches that have separated from the building
Mouldings that are out of place or have cracked
Stair step cracks in masonry or bricks
Cracks in the foundation wall which results into water in your basement
Uneven floors that sag or slope
Structural damage can also be caused recent landslides or earthquakes.
Cost of fixing a cracked ceiling
When a home settles into the soil, it can have a few cracks around some parts, including the ceiling. The cracks often may not indicate a severe structural issue; however, it's vital to know some of the possible causes for the cracks and ways to solve the problem by taking immediate action. We never know dangerous ceiling cracks may harm the house, check for any possible cracks in the house and get cracked ceiling repairs to enhance the safety of your living space.
Suppose you are not sure how to handle some of the ceiling cracks or fixing ceiling cracks in your home. In that case, it's vital to contact a professional ceiling repairer or expert from Southern Ceiling Repairs who will provide a detailed explanation of some of the possible causes and solutions to the problem. Our professional team at Southern Ceiling Repairs are ready to provide their ceiling and wall repair services in Perth and any of the suburbs around Albany and Bunbury. You can contact us on 0433 653 333 if you have any questions regarding their services and get a free quote for any ceiling crack repairs or problems in your home.