What is a Ceiling Rose?
Fashionable once again, Ceiling roses are decorative mouldings and have been used for decoration purposes throughout the decades. Traditionally used in the centre of the ceiling, to highlight and add to the effect of the light fitting. They are usually installed in rooms with high ceilings and within homes with decadent design styles.  It is quite heavy and as a result, they need to be drilled and screwed to ceiling timbers. This is a difficult DIY task, which is where we come in. At Southern Ceiling Repairs, we specialize in plaster ceiling rose installations. If your property has never had a ceiling rose or you are looking at replacing an unattractive damaged one, contact us for more information.
What are they made from?
They are usually crafted from the plaster but there are some newer options available. A ceiling rose is generally round in shape, you can choose from a large variety of designs such as traditional, modern, or art deco, and they can range from very simple or extremely ornate.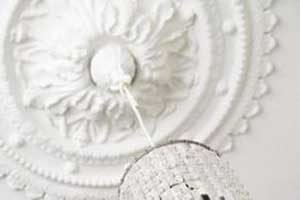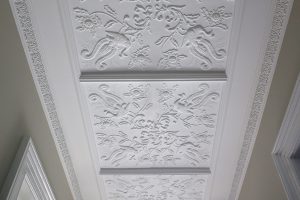 Choosing the right size
There is no hard and fast rule here, but the proportions must be right for both the room size and the ceiling height. Homes with low ceilings are better off with small, plain options. Homes with high ceilings can accommodate a much larger or more ornate ceiling rose. As a general rule of thumb, the rose shouldn't overpower the light fitting itself – i.e. the diameter of the rose shouldn't be larger than the diameter of the chandelier.
Popular styles
They come in a wide variety of styles, from plain, flat circles to huge, ornate affairs. The style you choose will largely depend on your current décor and any other pre-existing features. With a huge variety on offer, it should be easy to find a match for the existing decoration of your home. If you live in a period home and you want to be as faithful as you can to your home's past, look at the existing coving or cornice of the room to help you decide. Alternatively, a more modern home with no decorative plasterwork and a blank canvas can give you a lot more freedom as to what style to choose. Reach us for more information.
Alternative uses of ceiling roses
Believe it or not, a ceiling rose doesn't always have to be fitted to the ceiling. For a grand foyer entrance, they can be fitted to a feature wall around wall candelabras or as part of a feature combines with panel moldings.  Ceiling roses in Albany don't even have to be fitted in living rooms; can give a luxurious bathroom feel to your guest bathroom.
How are they installed?
As mentioned above, they quite heave and depending on the style you choose they can get quite large in diameter. DIY Installation although doable, without the proper technique and experience, can be a disaster.  You will be surprised by how inexpensive installation can be. Trust us with the ceiling roses Albany installation for an amazing finish where you will never be able to tell that addition but to look like it has always been a part of the ceiling.
Why choose us?
Our extensive experience in the ceiling repair industry, including gyprock ceiling repairs and plasterboard ceiling repairs, has us installing ceiling roses on an almost daily basis. We can fit in Bunbury both new and existing ceilings. Our professional team is happy to offer their expert opinion on the designs and styles available to you and is happy to answer any questions you may have. To add that wow factor to your home, get in touch with us.